Vegan Skateboard Shoes - Our Review
Etnies are a big name in skateboard shoes so it is no surprise that they have a range of vegan skateboard shoes.  Choosing a skateboard is no simple task as this is a very personal piece of kit.  Your skateboard shoe should not only be stylish and comfortable but must stand the test of time as you put it through its paces.  Skateboarders have long been style setters when it comes to shoes.  As soon as a style goes global they tend to find a new style.  This is why the skateboard shoe market is such a style-rich and happening place to be.  Just go down to any skateboard park and you will find dozen of different styles.  You will rarely see anyone with the same shoe.
The latest trend in skateboard shoes is the slimmer fit, moving away from the bulky shoe first seen in the 90's.  That is what Etnies have accomplished with this range of vegan skateboard shoes.   With the style of Etnies and their classic logo on the tongue these are a must have.
As with most skateboard shoes comfort is of paramount importance as these are going to be worn a lot of the time.  On first trying these they were comfortable and were a perfect fit.  They are stylish and come in 4 different colours.  To true Etnies quality these shoes have multiple layers which ward off those dreaded ollie holes.
Why Eco?
These vegan skateboard shoes have the added kudos of having made with the planets ecology in mind.  The laces are made from recycled plastic bottles for instance. Plastics are a huge problem for us right now, especially in the ocean.  The soles contain 20% recycled rubber. The footbed under the sole liner is made from real cork.  Etnies also have a "buy a shes plant a tree scheme".So you can rest your conscience knowing you have made a small to the planet by just buy these.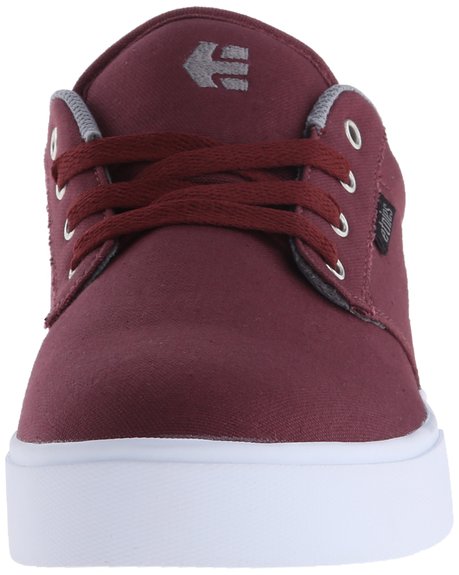 Specification
Four Colours to choose from

Outer Material: Canvas

Sole: Synthetic (20% recycled)

Inner Material: Manmade

Closure: Speed-Laces (Recycled plastic)

Heel Height: 0.5 centimetres
Summary
Don't delay in getting a pair of these bad boys.  Robust, stylish, and keeping skaters on boards for years, these vegan skateboard shoes are the bomb.  If I ever need another pair of Etnies then these will be my first choice.
Get your pair here: Etnies Jameson 2 Eco, Men's Skateboarding Shoes