A really decent black dressed up boot!
Vegan heeled boots - Rocket Dog Sorena - Our Review
These vegan boots are not for the inconspicuous! They are high heeled and come right upto the knees. They are noticeably wonderful. They are great with colourful leggings or skinny jeans. Day dresses too can be glammed right up with these Rocket Dog Serena Vegan Boots.
They are another pair I have in my Rocket Dog vegan collection and I wear them not as much as my everyday Vegan Terry Boots but I do wear them, even though they turn me into a giant - I kinda like that! I'm 5'10 and a yoga student of mine told me last week (when I wore them into class and chatted to her) that she felt miniature! So don't be fooled that these are a small pair of boots. Yet I'm a believer that no matter how tall you are you should wear high heeled boots with pride if you like wearing them - and don't let anyone else tell you otherwise!
They are surprisingly comfortable for heels. I can drive easily in them too. I think this is because they are a chunky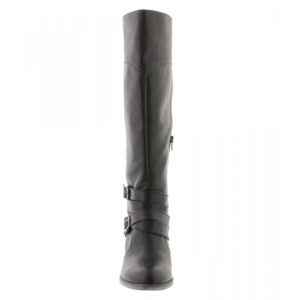 heel which brings more comfort and more ankle safety!
Thanks Rocket Dog for making stylish vegan boots (they sell leather also - do check!) - please keep doing so! More please.
Specification
6.5cm heel
Sierra PU outer
Buckle straps around ankle
Zip fastening
Price
£79.99 from the official Rocket Dog store. They often have offers on.
Summary
Quite a flamboyant take on a classic boot yet a great vegan choice!